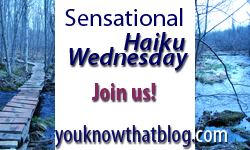 Something I have really wanted to rekindle is my love for poetry. I used to write a ton of it in High School, but that was a while ago. My poetic flare has been a bit trampled so I will be taking a refresher and engaging this part of my mind by participating in this meme each Wednesday. Keep in mind, I'm rusty.
This weeks's theme is: Freestyle
Of boy! That means I get to pick so . . .my chosen theme is books (of course).
Books
1.
The cover called her
The book beckoned her to read,
An invitation.
2.
She flipped the pages,
Digesting every word
Becoming the book.
3.
Each page told stories
Each word held immense power
The book came alive.
4.
Broken thoughts seemed whole.
Fantasy was tangible,
held between her hands.
5.
Her eyes scanned the page.
Emotion lit within her
books are pure magic!
~By Heather Randall 11/21