Why did I choose this planner?
What first drew me to this planner over others was it's large section for tracking reviews and giveaways. I write a lot of reviews so this is a great feature for me.
I was also especially excited by the lined option which leaves smaller spaces for my thoughts than the calendar style. I just don't have time in my busy day to fill up a full square of thoughts on blogging. The simple little line is just perfect for me.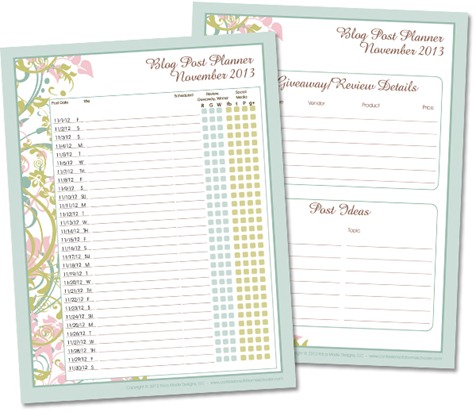 Each line allows me to mark if the post features a review, giveaway, or winner. I can also track my social media posts by checking off the Facebook, Twitter, Pinterest, and Google + squares. This is very helpful to me. Too often my social media posts are delayed after thoughts. This planner puts them right at the forefront where I can't miss them.
The art designs on the side of each page of this planner are soft and soothing. They don't detract my eye from the actual planning taking place on these pages.
Most ladies would probably follow Erica's advice and print their copies and have them spiral bound all nice and neat.
I'm not most ladies. I prefer to use a normal hole punch and add the pages to a simple three ring binder.
I have so much to plan in my day that blogging is just one small area of it. I need all the aspects of my life combined in one central location. That's why I used my favorite pepto bismol pink three ring binder. Now this planner is right beside the others that I use as well as all of my business notes for CWA, logins and passwords and tons more records I can't risk loosing. This binder is my go to for everything.
The 2013 lined Blog Planner by Confessions of a Homeschooler will continue to be a great time saver for this area of my life. It's completely free too. You can't beat that, right?
You can download your planner
here
.
Now, a special thing I noticed was that the end page for this planner is very attractively designed. For that reason, I printed extras of this page. A simple stick on tab affixed to the edge turns it into a beautiful divider which I use even for the non-blog related items.
I also use one of these extra pages to track my blog statistics and record the weekly listens report for blog talk radio.
Erica has created a wonderful resource for bloggers that I, for one, truly appreciate.
While you're visiting
Erica's blog
to download this beautiful planner, take a look around. Glean some of the creative homeschooling ideas she shares on her adorable site.