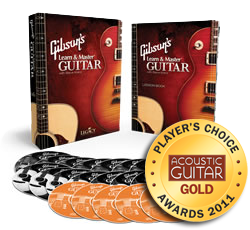 The Student Edition of
Learn & Master Guitar
includes 20 sessions of instruction. You will receive a sturdy box that closes magnetically and contains all that you need, except the guitar. Inside you will find a 107-page Lesson Book containing tablature and session assignments and a Teacher Guide including weekly practice logs and tips for evaluating skill. Also included are 10 Session DVDs, 10 Bonus Workshop DVDs for extended practice, 5 Jam Along CDs for even more practice, 2 Teacher Resource CDs, and a downloadable resource book with overviews, worksheets, and bonus songs. Again, you will need to purchase your own guitar for this course, but there are packages available at the company's website that include the above-mentioned items along with a Greg Bennett guitar at a pretty fair price. They even take
monthly payments
.
The lessons will take about 35 minutes each day. You will
begin
by watching a 20-minute session and follow up with a 15-minute workshop. Of course, you need to practice daily to improve. The teacher materials are good for tracking practice and ensuring the accountability to stick with it. Workshop sessions include a little pep talk with the instructor, who does a pretty good job at tackling the feelings of a beginner and providing encouragement to keep practicing.
I was excited to review this product, and I've used it right along with my daughter. I've always wanted to learn guitar, and my daughter shares my ambition. Honestly, she's doing better in the course right now and can already play a few chords clearly. We've enjoyed learning together. We laughed our heads off after our first session workshop when the instructor literally quoted all our whiny complaints about our aching fingers and slow learning. I think the course is perfectly suited to homeschooling, and I am benefiting from the learn-at-your-own-pace approach. It's okay to practice the same session again and again until you get it. Just keep practicing!
I already owned a guitar, and my daughter had a child's practice guitar. Her guitar has proven to be a bit of a pain. The strings seem to loosen easily, and we have to retune it often. The sound quality just isn't that great. So I would encourage you to take the instrument purchase as seriously as the lessons.
The only disadvantage I see with
Learn & Master Guitar
is that I don't have a real fear of letting down the instructor. Fear of disappointing a physical person can be a good motivation to practice. Using the
Learn & Master Guitar
method requires your dedication. If you don't want to learn, you simply won't. It's very important to set up a special practice time in your schedule and purpose not to miss it for anything.
Learn & Master Guitar
is a good product. It's a fun way to learn guitar, and I would recommend it to others. If I were purchasing
Learn & Master Guitar
personally, I would look into the package that includes the guitar. I think it's a well-priced deal.
Go to
www.learnandmaster.com
to learn more.
The Old Schoolhouse
®
Magazine, LLC, December 2009